Congratulations
You've decided to build an online store. What now?
The next step is about selecting the right platform – it's the foundation on which your store is going to be built. It's a very important decision – and one that we make on a regular basis with all of our Clients.
It's not an easy choice to make. There are plenty of options; plenty of distraction and noise, and of course, plenty of risk too. The successes and challenges, you're about to experience are directly linked to this next decision.
It should be simple, like putting up a website. Except you are not building a website – you are building a store in the cloud.
And that's why we are here… our experience can help you, our experience can take the guess work out, our experience can guide you and get you on the right path quickly – that's what you should be looking for in an end-to- end eCommerce partner. Real Experience.
Experience that attracts more potential customers, builds relationships with your existing ones and helps you sell more products.
It's why we have created our latest offerings NetShop and NetShop Pro.
What is NetShop and NetShop Pro?
NetShop and NetShop Pro are packaged, starter eCommerce store solutions designed to get you online and selling quickly, at a low cost. They are designed to be secure, robust, cost effective and most importantly, scalable offerings so that, from the get-go, you're doing the right things for the right reasons, first time around.
NetShop by Fontera is a fully hosted online store using Magento Community edition eCommerce, Dawn Wing couriers and the Peach Payments payment gateway. This combination of quality platforms and services gets your store online in the fastest time with the least amount of hassle. Once you're up and running, Fontera will host and manage the store for you to ensure maximum uptime, security and ease of use for both you and your customers.
What is Magento?
Magento is the most popular eCommerce platform on the Internet and is used by more than 250,000 online stores around the world. Over 25% of all online stores are built using Magento and they chose it for the same reasons we did.
It is scalable, cost effective and its built on open source technology that enables you to control and customize the look and feel, content, functionality and systems integration and that allows you to launch almost any kind of online store you can imagine.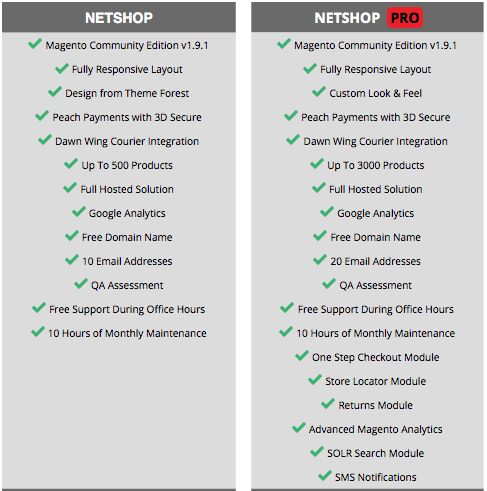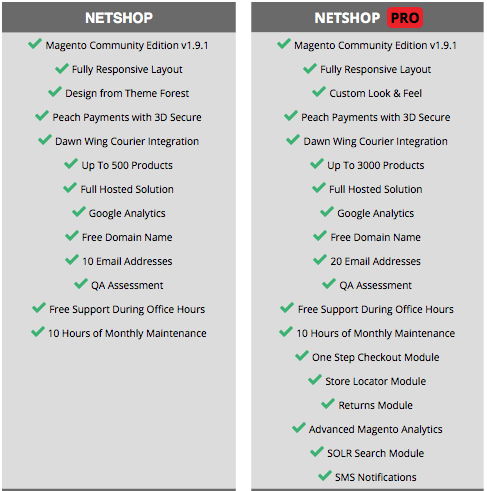 Enquire About Netshop