Our "Pinner" plugin is an easy way to automatically share images from your Magento products catalogue to Pinterest. It offers store administrators the option to auto-post images from Magento directly to Pinterest, with minimal effort.
How the plugin works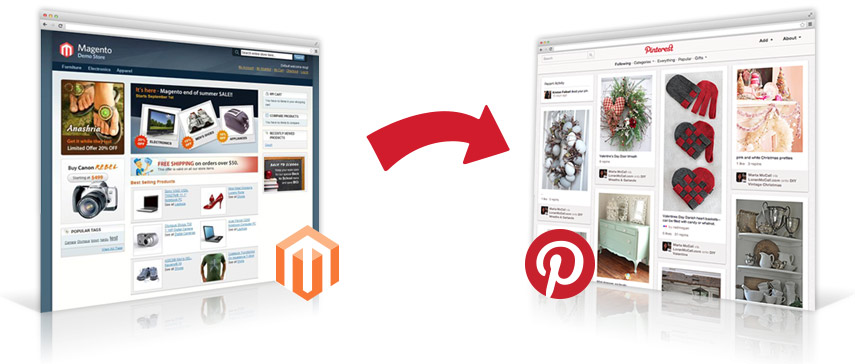 Once you've installed the plugin, all you'll need to do is enter your Pinterest account details into the secure admin panel. See screenshot below for what the configuration panel looks like.

When creating a new product or editing an existing product, access the "Pinterest" panel and choose whether or not to post a particular product to Pinterest. This gives you the power to manage the volume of posts to your Pinteret boards, in case you don't want to flood your boards with every single product in your Magento store.
If the product has multiple images, you can also select the image you want to use, add a description, and choose which board it will be pinned to.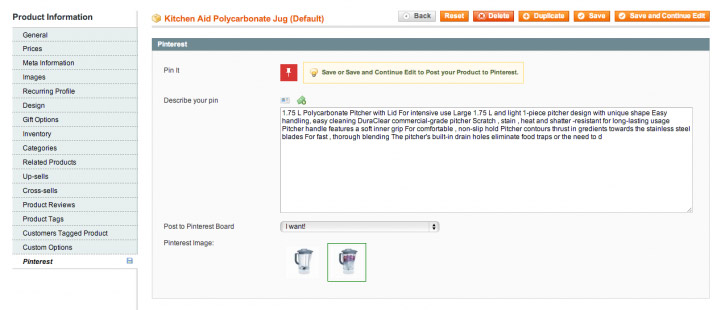 Our Pinner plugin makes is possible to seamlessly post selected products to Pinterest without any extra work outside of Magento. Why not try it on your eCommerce website today. Click the link below to get the Pinner Plugin.