With eCommerce on the blistering rise in South Africa, a 25% increase in 2013 to around R4 Billion online, many of the local retailers are jumping on the bandwagon and launching online stores (Stats from Business Tech). However, good eCommerce is more than a tactical manoeuvre, way more complex than just setting up an online channel for payment collection and product delivery.
eCommerce Development and Strategy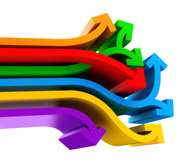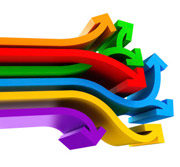 Strategy should be at the forefront of an eCommerce Development play, and not just strategy on the single online channel, multi-channel or more commonly known as Omni-Channel Strategy needs to be the focus for a successful drive into eCommerce. Omni-Channel means getting all parts of the strategy aligned; Single customer view, centralised digital assets, merged analytics across all channels, centralised customer support, same sense across all devices and channels, including social media and in-store!
Getting the Foundations Right for eCommerce Development
To do this effectively, you need to build the foundation properly, or you will be going back over and over again until you get it right. The foundation starts at selecting technology that fits with your business. Complex integration is one of the key elements to tying the strategy together, there is no one-stop solution to solve all your problems, as your problems exist within your current systems. A technology solution needs to compliment your current architecture, and allow seamless integration with your current architecture – This does not happen over night, and some legacy IT systems will need to be replaced in the change process, but building this foundation is key to executing a successful Omni-Channel strategy.
There are open-source technologies available that leverage your current setup and integrate with enterprise elements to solidify the foundation and centralise all the elements to form the Omni-Channel foundation. The top eCommerce Development platforms offer integrations through Enterprise on-premise solutions as well as Cloud architectures ensuring high scalability and availability of the centralised Omni-Channel solution platform.
No matter where the foundation realisation is, the important part is knowing and understanding the underlying strategy and technology that will service the strategy, making sure future enhancements can be plugged into the solution quickly and easily. This is another reason to adopt open-source approach to development on an enterprise platform. One change will be available to all systems!
Now, I am not saying that you cannot get into the eCommerce space without centralising technologies and laying out the full foundation. Ideally one should look at putting together a niche vertical and use a minimum-viable-product approach to start getting processes together and data together. This will allow for a better understanding of customer requirements (both internal and external), which can be used to optimise the niche deployment as well as offer massive dividends into the next niche deployment.
It all starts with strategy though. Understanding what you currently have to work with, how it can all integrate into a central platform to leverage the Omni-Channel principles, what the business wants to achieve and (most importantly) what the customer wants.
At the end of the day, you need to provide value to your customer. Ideally doing so through knowing what the customer wants before they do and then offering that to them.
This is the heart of the Omni-Channel Strategy, which will put you on the path to winning at retail in the long term and for the long term.