During a recent RFP process for the development and implementation of a new eCommerce platform, it was suggested that going with the "Big Boys" was better than using a boutique development house. The reasons given were that the boards of large Tier 1 retailers, when deploying their eCommerce strategy, lean towards larger scale proprietary technology platforms such as IBM's Websphere, Oracle ATG or SAP's recent acquisition, Hybris. Although these solutions come with a hefty price tag, they are selected because they appear in Gartner's Magic Quadrant for eCommerce and how can one get fired for following the magic quadrant?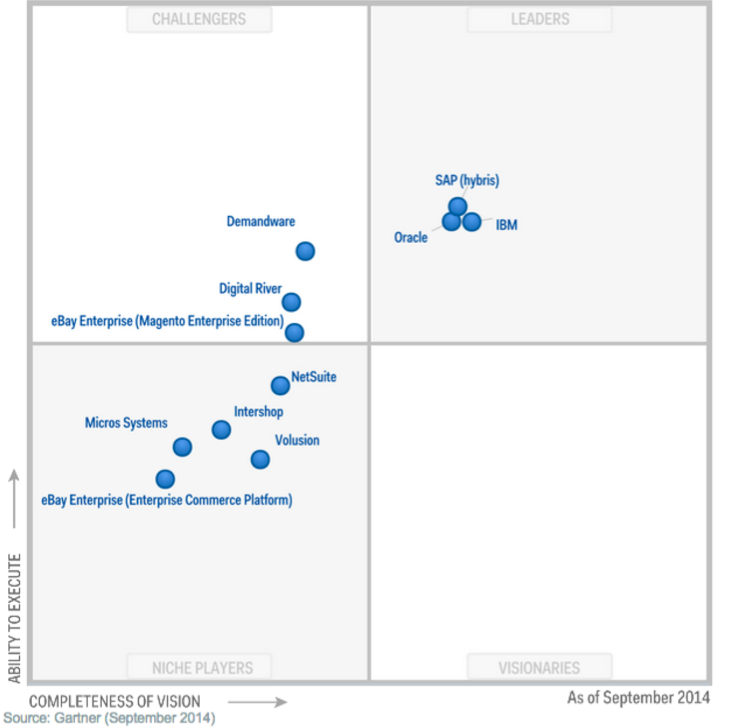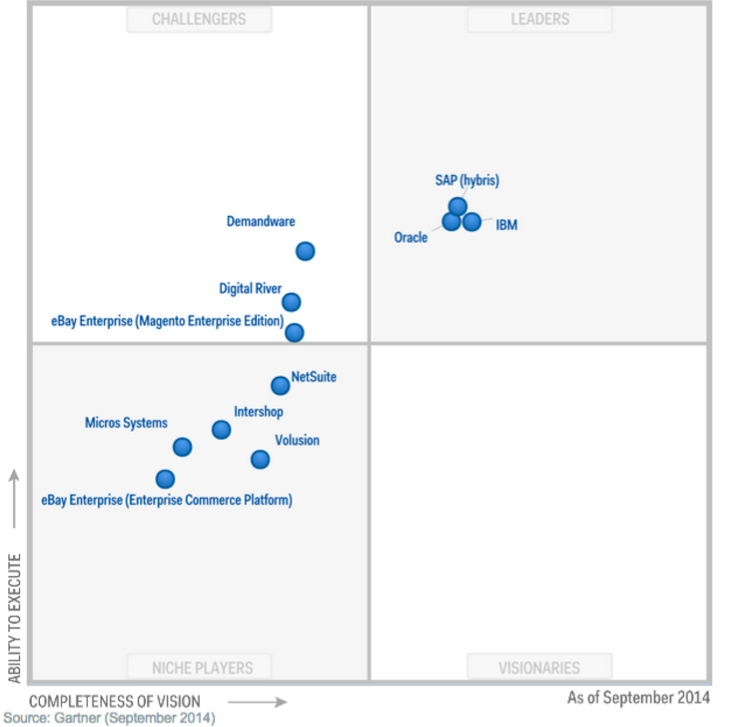 When considering options, other dimensions should be taken into account such as total cost of ownership as well as development time, enhancements and upgrades. The three platforms sitting in the 'Market Leaders' quadrant come at a great cost, in both licensing and development fees. Decision makers are however often sold on a total cost of ownership model that they do not really understand. The solutions then end up costing far more over the long term, making a return on investment almost impossible. Conversations with customers have suggested that making simple changes to the look and feel can take weeks with some of these bulky platforms.
The South African eCommerce landscape is littered with the fallout from endeavours using these massive platforms and never providing a return. Our experience in the USA has suggested that it takes three to four years before retailers realise that the license and development costs are exceptionally high, and that the development turnaround is slow with development being done mostly off-site. Other problems arise where solutions are full of features, but user experience is lacking, with the solution being more suited to the management of back of house operations and not the requirements of a large scale eCommerce solution.
For these and other reasons, eCommerce up-and-coming challengers such as EBay's Magento eCommerce and WordPress with its recently acquired WooCommerce will start to encroach far more into the traditional players space by providing required scalability, faster development times and often more importantly, lower total cost of ownership.
Fontera Digital Works (Fontera) is South Africa's first home grown, independent eCommerce and Application development house. Fontera has been pioneering eCommerce in Africa for a number of years with Magento eCommerce being our platform of choice. With a team of highly skilled and focused certified Magento Developers and Solution Specialists, Fontera can not only design, implement and deploy a Magento solution to compete with any of the larger players, but also integrate into the architectures of any of the "Big Guys". This enables you to not only continue operations with your current retail management system but also leverage the lower costs and higher speed to market of the Magento eCommerce solution.
Magento not only provides an array of extensions enabling integration into standard retail management solutions such as SAP, Oracle's Retek and others but also provides for custom extensions to be built enabling integration with non-standard management solutions.