DISCLAIMER: This blog is a true account of my shopping experience online. So although this is a personal account of my search for a gas heater, I'm sure thousands of South Africans endure similar frustrations with local retailers and their ecommerce offerings every day.
Researching product price online in South Africa
With winter rapidly approaching I decided it was time to buy a gas heater. Like any normal person I decided to do my homework and check models and prices online. Easier said than done.
First I went to directly to the big retailer websites, Game and Makro, thinking I'd find what I was looking for there.
Boy, was I in for a shock.
The Game website isn't even eCommerce enabled. What? Seriously?
Not only that, but they do not even have a proper product catalogue online. And trying to find anything is pretty difficult. Navigation of the Game site leaves a lot to be desired.
I tried searching for 'gas heater' and the site returned some really odd results. A GPS bag, a multi-function food processor, and soda stream gas canisters, oh, and some heated hair curlers.
I even downloaded a PDF version of their 20 page weekly flyer – hoping they'd have heaters. No such luck.
My next stop was the Makro website. At first I was pretty optimistic. Makro's site is far easier to navigate than Game's, and they appeared to be eCommerce enabled. However my elation was short lived.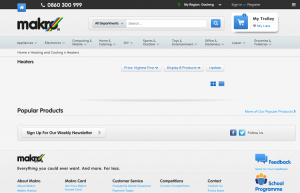 I used the navigation menu to get to the heaters. Appliances > Heating and Cooling > Heaters. Alas, the product category was completely empty. Next I tried a search for 'gas heater' – there were a couple of results, a couple of outdoor patio type heaters, some gas cylinders, but no indoor gas heaters. Does that mean they don't stock that product, or that they simply haven't added it to the website? I have the distinct feeling it's the latter.
Before turning to google for help I decided to try Eagle Appliances, a very famous store in Cape Town. At first glance I thought I was in luck, there was a huge banner advertising heaters and electric blankets. There was even a 'shopping cart' link in the main navigation.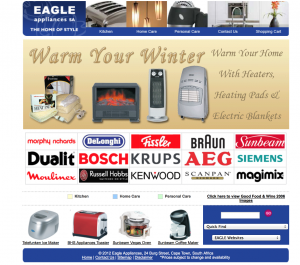 However you can't shop on the site – you can't even add items to the shopping cart so I don't know what the point of that link is. The most you can do is email them for a price. It was then I noticed that the site was hopelessly out of date. The last update was done in 2012.
But at least according to their catalogue they stocked gas heaters.
Since Eagle is only a couple of blocks away, I decided to visit the physical store and get prices in person rather than resorting to email. That turned out to be a huge waste of time as Eagle Appliances shut their doors 2 years ago. At least that explains the outdated website.
Now I turned to google for help.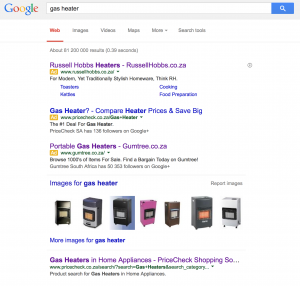 As usual I skipped the first few paid-for results and clicked on pricecheck.co.za
Finally I seemed to be getting somewhere. There seemed to be a lot of options now. I must admit that this is the first time I've actually used Pricecheck. The first search result was for a Delonghi heater. Great! And a few reputable dealers were listed, Kalahari.com and Dion Wired. The other stores I didn't recognize: 4home.co.za, Win-a-lot and Metro Home Centre.
At least these sites were ecommerce enabled, whether I recognized the store brand or not, and I could do some comparative shopping. I can't believe it took me so long to use pricecheck.co.za
After much searching and price comparisons I went and physically purchased my heater instead of doing it online, simply because a store in the same building as my office stocked heaters at (almost) comparable prices. This particular furnisher store is also not ecommerce enabled either. The mind boggles!
I want to go back to my google search for a moment. With the exception of 2 paid-for results (pricecheck and takealot) Not a single result on the first page was for a South African store.
RussellHobbs.co.za was the first returned result on google, but they too are not ecommerce enabled. What's the bloody point of advertising your products if they can't be purchased?
Takealot could have gotten my business, but the product page had this ominous little message under the image; 'image for illustration only'. Does that mean the product may look completely different? If I cant be sure of what I'm buying, I'm not gonna buy it. Simple.
I can see why South Africans are a little slow when it comes to online shopping. It's a pretty frustrating experience. It's far better than driving around town visiting one store after another, but it's not as good as it could be.
Retailers really need to take a good hard look at their websites, because even after all the research I did, I went into a bricks and mortar store to make my purchase. It would have been so much easier online.